What are the Different Types Of Mops Used For Cleaning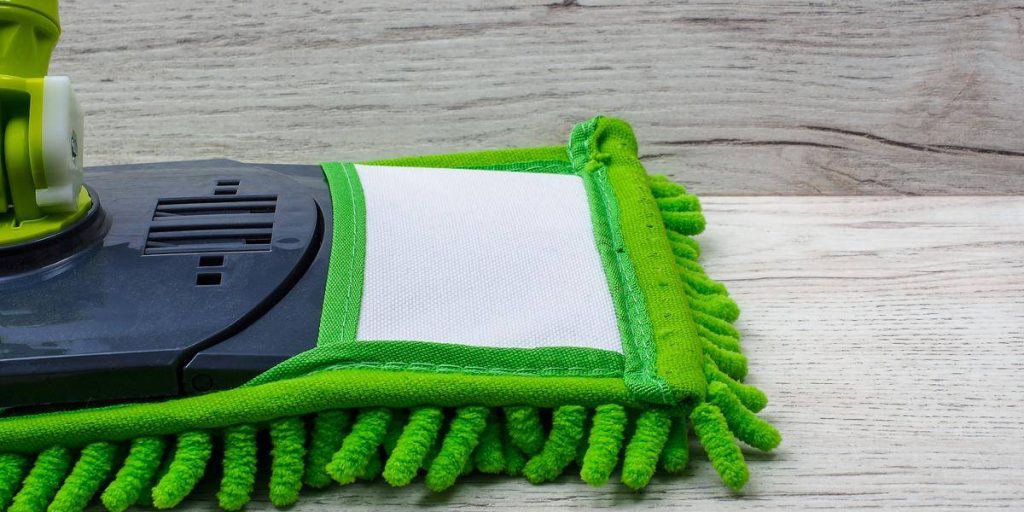 Mops used to be a simple tool with a stick and something to scrub with at the other end. However, the modern mops of today have highly evolved to accommodate the needs of different types of floors. The unique designs not only give you a clean floor but also help you mop the hard to reach areas with ease. Here are the different types of mops used for various floorings:
1. String Mops
This is the design people visualize when they think 'mop'. The string mop comes with a bucket and there's a special compartment to wring out excess water before you do the mopping. Almost all business areas use string mops as they are highly efficient at performing heavy duty cleaning on dirty floors.
2. Spin Mop
This belongs to the string mop family and follows the same mopping concept. However, this mopping system is more contemporary as the bucket comes with a hand or foot pedal to wring out the excess solution or dirty water from the mop head.
Spin mops are not as large as the string mops, so you can use them for efficiently cleaning a house. The ease of use makes it a favorite with house cleaners.
3. Strip Mop
They are almost similar to the string mops but more versatile. When dry, the strip mops can work as a dust mop as the head has a series of strips that are useful in removing dust. They also serve as an efficient wet mop to clean the floor and the mop head can be machine washed after use.
4. Flat Mops
They are typically meant to clean small stains in areas that do not get a lot of traffic. There is a pad attached to the end to pick up dirt and wet grime. Some of the pads are washable, hence they can be cleaned in a washing machine and reused.
5. Sponge Mops
They have a similar design as flat mops, except that there is a sponge instead of a pad/ cloth at the other end. The sponge is capable of absorbing more dirty water than a pad, hence they can be used to clean bigger areas. They work best for liquid spills as the sponge can absorb more at a time.
6. Steam Mops
Unlike the string and strip mops that use a solution to clean the floor, the steam mops take the extra wetting and wringing steps out of the process. Although not as big as the string mops, they come with cartridges to dispense mopping solution.
When a button is pressed, a small amount of solution sprays out on the mop head, so you don't need to move around the house with a bucket or a spray bottle.
7. Dust Mops
This is used as a giant-sized broom for cleaning dry dirt and items like paper and other trash from the floor before the floor is mopped. They come handy to clean and pick up the dirt in commercial buildings and shopping center that are high traffic areas.
8. Microfiber Mop
The microfiber mops are gaining in popularity mainly due to their ability to absorb liquid like a sponge. They are built almost in the same way as a sponge mop. The biggest difference is that unlike a sponge mop, microfiber materials can be cleaned with ease.
9. Floor Mop
Similar to a dust mop, the floor mop helps in cleaning the dust, trash and other dry particles on the floor. They are often known as shop brooms because they look like a mop but have bristles at the end like a broom. The floor mop works best at commercial areas like warehouses and parking lots that get dusty and lots of trash fall on the ground.
10. Static Mop
This mop has a similar design like a shop broom but they may have a microfiber cloth in the place of bristles. As the mop head is made of microfibers, they are named static mops. They are used in the same way as floor or dust mops to pick foreign objects from the floor to the dustpan.
11. Disposable Mop
If the floor in your house or office does not require frequent cleaning, you may consider getting a disposable mop that can be connected to any dust mop. This gives you the freedom from cleaning the mop head as you can clean and discard after one use.