How To Clean Leather Sofa With Soap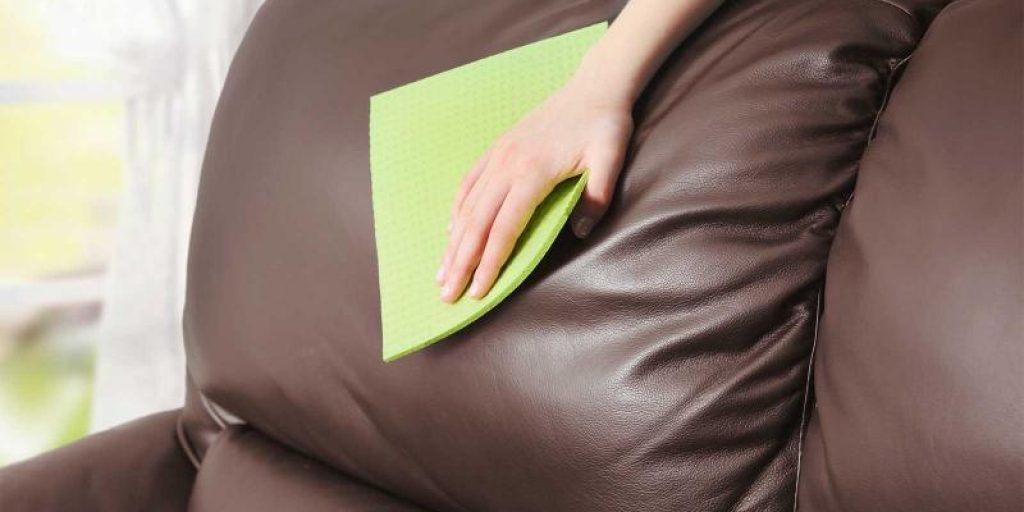 The old leather sofa is perhaps one of your most prized possessions that accentuates your interiors and adds an air of elegance to the décor. It's perhaps your favorite spot for watching a movie, relaxing with your dog or chilling with friends but your sofa requires some amount of care to keep it shining in your living area.
Today, I want to show you how to clean a leather sofa with Dove soap. The reason why I chose Dove is that it is a gentle moisturizing soap, unlike the harsh cleansing agents that can spoil the shine of leather and make it look old and rugged.
Cleaning with soap does not mean that you create a huge leather and wet your sofa with that leather. Just use a dampened cloth, rub it with Dove soap and rub the sofa in a gentle circular motion. You don't need to wet the leather completely.
Once you are done cleaning the entire surface, take another dampened cloth and rub over the sofa again to remove any residue. In the last step, take a dry cloth and wipe the area to remove any moisture.
Besides removing the dust, dirt, body oil build-ups and stubborn food particles on the sofa, you will also need to perform regular conditions to keep the leather in good shape. Here are the instructions to create your own leather conditioner at home:
Homemade Natural Conditioner For Your Leather Sofa
To create a natural DIY conditioner for your leather sofa, mix four teaspoons of lemon juice or vinegar with two cups of water. Vinegar acts as a cleansing agent to remove food stains and stubborn marks left by pets.
Another method for creating DIY conditioning is to mix one part of white vinegar with two parts of flaxseed or linseed oil. Now use a soft cloth to rub this mixture on the leather surface in circular motions. Let it soak the mixture overnight.
Leather has an absorbent capacity that can easily soak moisture, baby food, liquid spills, and dirt, hence you need to do some prep work before the actual cleaning process. Just follow the steps mentioned below for thorough cleaning of your leather sofa.
Step-by-Step Instruction To Clean Leather Sofa
Use a vacuum cleaner to get rid of the dust and dirt particles hidden between the crevices or else they will be rubbed into the surface when you try to clean with a damp cloth.
The soft brush attachment will work just fine. As dust particles are abrasive, they can damage the surface when they come in contact with water hence this step should not be avoided.
Now dampen a soft microfiber cloth by soaking it entirely in water and then wringing it to remove excess water.
Now rub this damp cloth with Dove soap and start cleaning in a circular motion as mentioned above. For best results, start from the top and work your way to the bottom.
Clean again with a second damp cloth to remove any soapy residue. Now, dry with a clean cloth or towel. 
Remember to not blow-dry as this can dehydrate your sofa.
Apply the DIY leather conditioner on your sofa and let it soak and hydrate overnight. Next morning buff the leather sofa with a dry and clean rag to restore the shine.
Ways To Treat Different Types Of Stains On Leather Sofa
#1. Mold and Mildew
If you have kids or pets who frequently spill liquid on the sofa, there's a risk of mold and mildew growing on the hidden crevices. If you see white spots on your sofa, clean the area with a mixture of equal parts of rubbing alcohol and water.
#2. Permanent Marker Stains
I know how it is like to have mischievous little kids at home. So, if your little one has scribbled something with a permanent marker on your sofa then don't lose all hope. It can be removed by spraying aerosol hairspray on the marks. Just apply some spray on the spot, leave for a few seconds and wipe with a soft cloth.
#3. Ballpoint Pen Ink Stains
Kids enjoy scribbling on everything and with anything they lay their hands on. If you want to get rid of ballpoint pen marks on the leather sofa, take a soft cloth, soak a tiny part in eucalyptus oil and rub on the area to do spot treatment. Ink stains can also be removed by rubbing a little alcohol on it.
#4. Food Stains
Other types of stains on your leather sofa may be removed by using baby wipes, non-acetone nail polish removers, and white toothpaste (no gel). Before using any of these methods, test on a small hidden patch to ensure that it does not fade the color of your sofa. Safer options are leather cleaners and leather wipes.
#5. Stubborn Stains
To get rid of dark and stubborn stains on a light colored sofa, rub the stain with a mixture of one part of lemon juice and equal part of tartar cream. Let the mixture sit on the stains for 10 minutes and then rub off the affected area with a damp sponge to remove stains.
#6. Grease Stains
If there are stubborn grease stains on your leather sofa, treat them by sprinkling some amount of baking soda on the stained area and then dust it off after some time. As baking soda has the ability to absorb oil, your sofa will be clean. Wipe with a damp cloth.
#7. Other Stains
Besides Dove Soap, you may also use Murphy Oil Soap to clean stains on your leather sofa. Just make a mix of 2-3 drops of Murphy oil soap and 2 cups of water. First dust off any dirt on the surface of the sofa and the dampen a sponge in this mixture and remove the stains. 
Make sure leather does not absorb water. Wring the sponge to get rid of excess water before cleaning the sofa.
Tips To Maintain Leather Sofa In Good Condition 
All leather furniture will end up looking slightly old and rugged, no matter how much you take care of them. You can make safe and effective natural homemade conditioners to take care of the leather naturally.
Treat your leather sofa with a natural moisturizer or softener in every three to four months to keep it in the best condition. Cleaning leather with natural cleansers like Dove soap and moisturizing them can ensure that your furniture lasts longer.
Don't wait for special days to clean your leather sofa. Simply wipe it off daily to remove dust on the surface. You may also use a feather duster to clean your sofa. If you get a lot of dust in your area or the sofa is used heavily, you may clean it with a vacuum cleaner.
Remember to never expose your leather sofa to direct sunlight as this can dehydrate the leather material, causing discoloration and cracking. At home, keep your sofa two feet away from any source of heat such as heating vents and air conditioning sources
In case of any type of spills (including water) on the sofa, take immediate action to soak the liquid with a soft cloth as much as you can. If neglected, the liquid can seep into the dye and leave unsightly marks on your leather.
If there are stubborn stains that don't go away with homemade methods, consider hiring a professional cleaner to get the job done instead of spoiling the material.
How To Clean Other Leather Products
Cleaning a Leather Chair
With average usage, frequent dusting and vacuum cleaning along the crevices and difficult to reach areas are necessary to keep your leather furniture clean. You must also use a quality leather conditioner in every 6-12 months to bring back that shine. To make your leather furniture last for long, keep it away from direct sunlight and use a protector to protect from pets.
Cleaning Leather Shoes
Every individual must have at least a pair of black leather shoes for special occasions when they need to pump up the fashion meter. However, keeping the shoes in spotlessly good condition is as essential as buying one. Remember to spot clean your leather boots every time you accidentally spill something on it.
Neglected stains can become difficult to get rid of later. You may use a Dove soap and water solution to clean your leather shoes in a similar way as you clean the leather sofa. You may also use baby wipes to spot clean any stains while you are traveling.
Cleaning Leather Jacket
Before you start cleaning your leather jacket, make sure you read the labels carefully and follow the wash instructions provided. In case there are none, use a mild soap solution (Dove Soap is recommended) in warm water. Soak a clean cloth in the soapy water and wring out the excess. Use it to spot clean the stains in your jacket and then wipe it with a dry and soft cloth.
Related Questions
What is a leather protector?
If you have messy kids and pets at home trying to lessen the age of your leather sofa, consider using a leather protector. This can not only help in extending the life of your leather furniture but will also require less maintenance work.
How frequently should I condition my leather sofa?
I would say about 6 to 12 months with a good quality conditioner that has nourishing and softening agents. Avoid using products containing any harsh chemicals. This one-year treatment can prevent your leather from cracking and drying out.
What is the difference between protected and unprotected leather
Most leather furniture is made of finished or protected leather that may be labeled as pigmented leather, semi-aniline, or aniline plus pigment. The protected leather is more uniform, stain-resistant, and durable than unprotected leather. Aniline or unprotected leather can easily get stains and is typically pricier too.
What should I avoid using on my leather sofa?
I would suggest that you avoid any kind of cleaning detergent that contains harsh chemicals. You must also avoid using waxes, silicones, and saddle soaps as they can do more harm than good to your leather sofa.
What to do if my sofa gets scratched?
When you have a leather sofa at home, make sure you keep sharp objects away. Despite all your efforts to keep scratches at bay, if there's a scratch on your sofa, buff it lightly with a chamois to reduce its appearance.