How to Clean Windows Without Water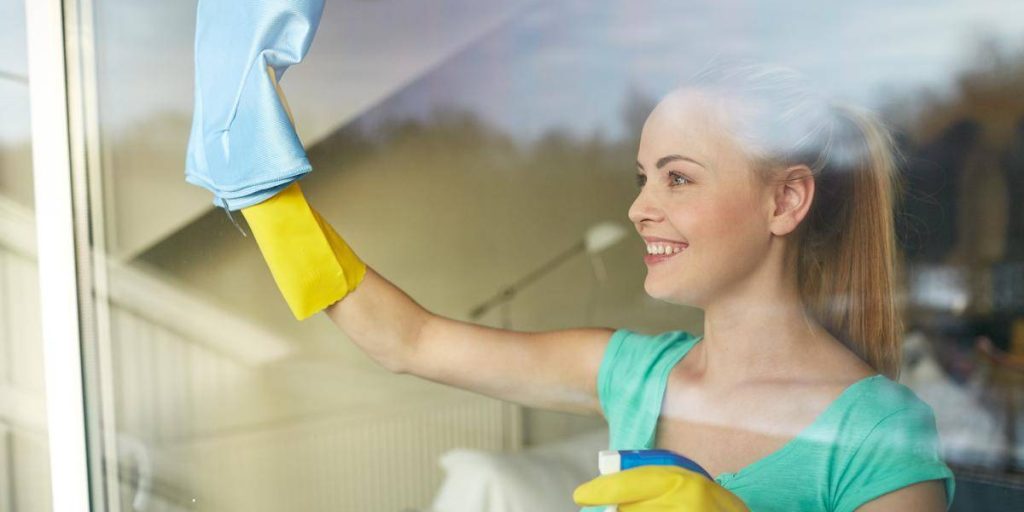 Windows cleaning may not be cringe-worthy like scrubbing a stained sink or old toilet bowl, but it is a tedious and repetitive job nevertheless. After all that careful cleaning and scrubbing, it can be annoying to find streaks that reveal their ugly faces when sunlight falls on the glass. From my experience, I have seen that using water results in an inevitable mess of streaks that often take hours to handle.
So, can you clean windows without water? Yes, you can use a soft microfiber cloth soaked in a good quality window cleaning solution. Unlike water or a soapy solution, this will not create any streaks on your glass windows, coffee tables, or mirrors.
It is essential to choose a good windows cleaning solution because some of them may contain harsh chemicals. Let's not forget that glass is temperamental in nature, and harsh cleaning supplies may eat away the surface. Just a drop of concentrated degreaser is enough to leave permanent marks and unsightly swirls.
What's The Natural Alternative To Cleaning Solutions?
If you do not want to buy a cleaning solution, you may use vinegar instead ( click to see 100 Uses of Vinegar). This anti-bacterial and non-toxic agent is a miracle from nature and works for any type of surface. It can effectively kill germs thriving on the dust film over the glass windows.
The best part is that it is much more economical than cleaning solutions and causes no harm if children ingest or inhale it by mistake. If you have kids, you can use this safe and natural cleaning solution at home. However, a vinegar solution usually includes a part of distilled water or tap water.
Today we are discussing ways to clean windows without water, so let's find out how we can use vinegar without mixing it with water. To clean without water, take some white vinegar solution and warm it up slightly. Now, use this solution directly on the glass to get a streaks-free view.
What Is The Best Scrubbing Medium To Clean Without Streaking?
I recommend using a microfiber towel (see my detailed reviews) or chamois to scrub the windows using the cleaning solution. You can also do a neat job using a regular rag.  Newspapers and a plastic scraper may be good to scrub off dry things stuck on the windows, for example, bird poop. However, I would not recommend using newspapers and paper towels with cleaning solutions as a paper leave behind a lot of lint on the surfaces.
Another useful and efficient tool for cleaning windows is a squeegee. It can wash away your window and give you a clear and streak-free surface. You will never have to look back at newspapers and rags again, however using a squeegee takes some time and requires good practice to get a hang of it. Read on to find out how to find the right squeegee for window cleaning.
Why Avoid Paper Towels While Cleaning Windows
While it's common for people to use paper towels to clean windows and mirrors on any day, a roll of paper towels is not the best solution. When used on glass windows, the paper towels not only leave streaks but lint that are difficult to get rid of.
While the paper towels are good at cleaning spills, they don't do a decent job on the window glass. As they are made of tiny paper fibers, they leave a thin film of fuzzy residue or lint on the otherwise clean windows. Who wants to spend hours cleaning windows only to end up with lint?
What Type Of Squeegee Works Best For Cleaning Windows?
When it comes to cleaning windows, a squeegee is an essential tool in your kitty. I suggest that you invest in a good quality squeegee that cleans well, not like the cheap ones you see at the petrol stations. Some of the recommended brands are Sorbo, Ettore, and Unger
A good quality squeegee comprises of three parts – rubber, handle, and channel. You can change the rubber when it gets old by replacing it with a new one, so your tool has a longer life.  While the squeegees come in different sizes varying from 4 inches to 24 inches, the 14-inch squeegee is suitable for most windows.
Steps To Clean Window Without Water
When it comes to window cleaning, glass is the most critical part. You need to be careful about your choice of tools and other cleaning supplies to ensure that you do not leave unsightly lint or streaks on them. Here are the steps you need to follow to clean window without water.
#1. Do some prep work
Windows take a lot of beating, especially the kitchen and bathroom windows. From splattered oil and water to errant toothpaste and dirty hands of children, so many things go into making windows dirty. So, when you schedule a cleaning day, start with some preparation work first.
Some of the dust, dirt, and grime may stick on the surface but there are many things that can be easily dusted off.  So, take a clean and soft cloth and dust window frames and glasses to remove dust, spider webs, and bugs. You may also use a vacuum cleaner to remove dust and dirt from the windowsill and sashes.
#2. Choose a good window cleaner
You can visit your nearby grocery store or look online to find the best quality glass and window cleaners. Some branded cleansers are marketed as streak-free, but make sure you avoid the ones that contain harsh chemicals as they can damage the glass.
You can choose one of the commercial solutions or make your own white vinegar based cleanser by warming it up. Put your homemade solution in a spray bottle and use it as a safe and fuss-free solution. Spray the cleaning solution all over the window ensuring that you properly cover the dirty areas, and leave it for a few seconds.
#3. Use the right cleaning cloth
Next, take a low-lint towel or natural chamois cloth to start scrubbing the window. You must avoid paper towels as they cover the mirror or glass with a thin film of lint. Make sure you buy only good quality microfiber cloth that make the windows squeaky clean without leaving any lint behind.
You may also use a soft cotton towel for cleaning but make sure it has a tight weave. Some people prefer using newspapers to clean windows but I do not recommend this. It can be messy and if the frames are made of wood, you may get ink stains on the wood.
#4. Changing directions to get a clean glass
Cleaning glass windows can be annoying at times because even after hours of scrubbing, you can still see the swirls and lint in sunlight. My friends often ask me if there is a solution for that. My answer is to change the directions as you wipe the windows. Similar to painting, you need to do the same area several times with
strokes from different directions.
Start with a scrubbing pad to make small circular motions to remove most of the moisture from the window. Next, grab a squeegee and make horizontal and vertical swipes to remove any streaks and get a clean window.
#5. Remember to buff!
After you are done with all the scrubbing and wiping, don't forget the last step that involves buffing the area with a dry cloth. Even after careful cleaning, you may still see some streaks flashing out when light falls on them.
Keep a dry microfiber cloth ready to give one last buff after you are done with cleaning to get rid of those pesky streaks.  You don't need to do the entire area all over again. Simply buff the streaks when you see them.
If you are thinking to clean your blinds, you must have a look this article. I have spent many hours to write it.
5 Mistakes To Avoid When Cleaning Windows
* Choosing a sunny day to clean can be frustrating because the cleaning solution will dry out quickly even before you are done with the cleaning. This will leave behind hard to clean streaks. I would recommend you to choose a dry but cloudy day for best results. But, if you are itching to clean on a sunny day, start with the window that does not get too much sun.
* Not using the window cleaner generously can leave too many streaks. If there is a stubborn spot or layer of dirt and grime, you will need to use a good amount of cleaning solution to dissolve it completely. If you skip this step, there will be many streaks on the glass.
* Not cleaning the window sill and sashes can be troublesome. It is always better to dust off the dirt and grime to reduce mess with the cleaning solution. You may use a vacuum cleaner like these to remove dust from the window sills, sashes, and frames before dealing with the glass.
* Using newspaper to dry the wet surface is a trick that does not work for everyone. It can be messy and ineffective. So, make sure to use a good quality microfiber cloth that is super absorbent and easily washable.
* Cleaning with a weak paper towel is complete no unless you want the glass to be covered with lint. To make things worse, the paper can break into two halves and leave a lot of lint that takes extra time to clean up.
The Final Words
Cleaning windows without water is possible and many people prefer this method as it is less messy. You need the right cleaning tools and good windows cleanser to do the job neatly. Another important aspect of cleaning is to choose the right day, which is not too sunny. Remember to buff at last to remove any streaks and add an extra shine to the windows.