How To Clean Bathroom Floor Without Mop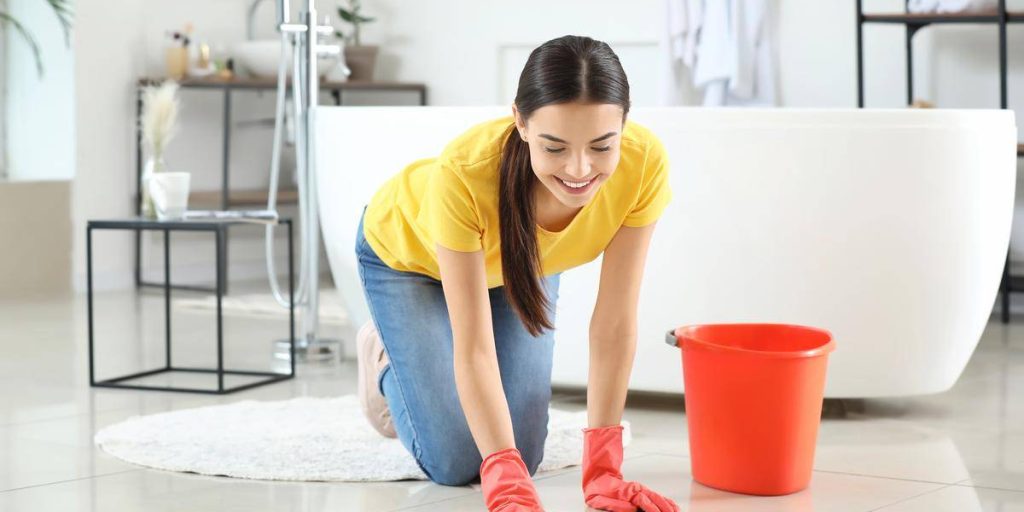 I have often heard people complaining about cleaning bathroom floors using a mop. Some find it time taking and tedious while others say that they end up splashing water and creating a mess. If you have similar feelings, I have some easy alternatives to help you get the work done.
So, how to clean the bathroom floor without a mop? Sprinkle a homemade cleaning solution (vinegar and warm water) on the floor (not in travertine or marble) and wipe using an old towel or microfiber cloth. You may also use lemon juice and wipe the floor with a sponge. However, make sure you don't use any acidic solutions on the hardwood.
Another option is to use a steam cleaner along with a scrubbing brush to loosen the dirt trapped in the grout lines. Steam can work wonders to remove dirt and germs in a way you can't expect from your traditional bucket and mop method. However, you must avoid using the steam mop on hardwood and laminate floors.
If you have time constraints or any other issues making it difficult for you to clean the bathroom floor with a mop, you can rely on numerous other ways. Read on to find more ideas on how to clean the bathroom floor to make it look and smell good.
Cleaning Methods Depend On The Type Of Bathroom Floor
The methods used to clean the bathroom floor depends on the type of flooring you have. For example, porcelain and ceramic tiles are easy to maintain and they can handle most of the cleaning agents without losing their shine. On the downside, they hide dirt and germs so you need to use a good scrubber to clean them.
If you have marble or stone floor in the bathroom, it will look breathtaking for sure. However, cleaning the marble or stone tiles may be tricky. You must use a cleaner that has a neutral pH and not any hard substance for scrubbing the floor.
Similarly, if you have resilient tiles made of vinyl, cork, rubber, or linoleum, you can sponge it or towel clean using water and vinegar solution. You must avoid using steam cleaners on these surfaces are they are not built to bear excess heat or cold.
Different Ways To Clean Bathroom Floor Without Mop
Use a squeegee and sponge
Vinegar is a safe and natural cleanser that comes handy to get rid of stains and make floor germ free. Make a mix of vinegar and warm water, and use this solution to clean the floor using a sponge. Vinegar is good at removing hard water stains on the floor and gives you a shining surface.
Remember to rinse the floor again with cold water after treating it with vinegar. You may use a squeegee to remove the excess water and then absorb the remaining water with a sponge. You must take care to not use vinegar on hardwood floors as the acid content may ruin the delicate surface.
Old Towel or Rag Cloth
You may use old towels or rags lying unused in the house to give your bathroom tiles a nice cleanup without using a mop. Add a few drops of lemon juice to warm water and sprinkle it on the floor. Now take the old towel and use your feet to clean every corner of the floor.
It is important to not let any water drops sit over the tiles for too long or else it may cause ugly water stains. Alternatively, take a slightly damp towel and spray a good amount of disinfectant on it. Now, use your feet to clean the bathroom floor, and you will benefit both ways because this gives you good exercise too.
Toothbrush and Toothpaste
If the dirt between the bathroom tiles makes you feel embarrassed in front of the guests, it is time to get rid of them. An easy and cost-effective solution is to use an old toothbrush to give the dirty tiles a nice scrub. Apply some toothpaste on the brush and clean the tiles and lines between them thoroughly.
You can then wash the floor using the water hose.  Remove excess water from the floor using a squeegee and then use a towel to absorb out the remaining water. This will also help dry out the surface faster.
Dusting Cloth and Tea Towel
If your bathroom floor is looking dull and stained, here's a quick way to clean and restore the shine without using a mop. Use a tea towel to first wipe the wet floor and ensure that it's dry. Now, spray furniture polish on a dusting cloth generously.
Put the cloth on the floor and use the back of the brush on the cloth to polish the floor tiles gently. Take care to not step on the polished floor until it becomes dry.
Using a steam cleaner
Although not a traditional mop, the steam cleaners perform the job of a mop with care and precision. The pressurized water vapor released from the equipment removes grout and cleans the tiles at the same time.
The steam cleaners are safer and cost-effective to use than the floor cleaning products. They are suitable for marble, tile, vinyl, wood, and laminate floors. The sterilizing effect of steam not only cleans the surface but also kills germs and bacteria.
Showerhead or water hose
If there are dust particles in the bathroom, you may also use pressure from the shower head or water hose to clean the bathroom. It's more convenient than pouring buckets on the floor. Once the dirt is removed and the floor looks cleaner, grab a squeegee and drain excess water from the floor. You may then spray a good disinfectant on the floor and use a towel to wipe it dry. You may use a homemade cleaning solution made of vinegar and warm water. For more effective cleaning, you may add a pinch of baking soda or borax powder.
Six Tools You May Need To Clean Bathroom Without A Mop
If you wish to clean the bathroom floor without using a mop, here are a few tools that can help you. Keeping these tools in the house not only guarantees a clean surface but also comes handy to remove spills on the floor (for example, the shampoo bottle or body oil spilling accidentally).
#1. Microfiber Cloths
A good set of microfiber cloths like this is easily available in any store and you can find them in different colors too. Nothing cleans better than a damp microfiber cloth and they don't leave behind lint like other clothes. You can use them for the kitchen, bathroom, and other areas of the house.
#2. Spray bottles
The spray bottles are inexpensive and they come handy to use the homemade cleaning solutions. At times, when you are not in the mood for a thorough cleanup, these spray bottles are useful to spray the cleaning solution generously over the floor and wipe using a towel.
Besides a great tool for cleaning floors and tiles, they can also be used to spray on clothes before ironing. Some people use them to train pets to stay away from furniture.
#3. Squeegee with a long handle
A squeegee comes attached with a long extension pole and it can be used to remove excess water after washing the floor with a bucket of water. The squeegees come in different sizes. While the big ones can be used to clean the floor, you may use the smaller ones to clean the mirrors and windows.
#4. White cleaning cloths or paper towels
If you are looking for an alternative to microfiber cloths, the white cleaning cloths work just fine. If you use bleach to remove stains on the floor, you may use the white cotton cloth to wipe the area clean. They have the good absorbent capacity so the floor can dry out really fast.
You may also use paper towels to wipe your bathroom floor clean. These are inexpensive and the paper absorbs the liquid well so that there are no water stains on the floor.
#5. Steam cleaners
The steam cleaners come with replaceable and washable pads to remove dirt from the lines between the tiles. They do a good job of cleaning different types of bathroom floors. The pads often come with a lingering jasmine or vanilla scent that leaves your bathroom smelling fresh and fragrant all day.
However, you must be careful when using steam cleaners as some types of floors are not designed to take extreme heat or cold. Steam cleaning not only removes dirt and dust from the surface but also makes it germ-free.
#6. Lightweight vacuum cleaner
If your bathroom accumulates a lot of dust, I would recommend using a light vacuum cleaner to remove the dirt before wetting the floor. If there are lines of dust on your bathroom cabinet or clothes holder, cleaning the floor alone won't make your bathroom look clean. So, a light vacuum is what you need to ensure complete cleanliness.
Related Questions
Are environmentally safe cleansers effective?
While some people say that green or environmentally safe cleaners are not potent enough, this is not true. Several hospitals and daycares use green cleansers to sanitize the floor.  Using a disinfectant on your bathroom floor is not optional but a necessity, especially if you have kids at home. Go ahead and choose an eco-friendly cleanser or make your own at home.
How to make an effective floor cleanser at home?
If you have kids at home, I would advise you to keep chemical cleaners releasing toxic fumes away. If you are someone who prefers to make your own homemade cleanser, just add a half cup of white vinegar with one gallon of warm water.
Is vinegar safe to use on all types of the floor?
If your floor is made of sensitive material such as travertine or marble, avoid using vinegar completely. You may replace vinegar with baking soda and soap solution for a more powerful and effective cleaning solution.